More About The Pilot's Guide to Avionics
Founded in 1957, the Aircraft Electronics Association represents nearly 1,300 member companies in 43 countries, including government-certified international repair stations specializing in maintenance, repair and installation of avionics and electronic systems in general aviation aircraft.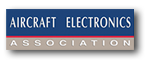 The AEA membership also includes manufacturers of avionics equipment, instrument repair facilities, instrument manufacturers, airframe manufacturers, test equipment manufacturers, major distributors, engineers and educational institutions.
For years, the AEA has published the Pilot's Guide to Avionics, a consumer's directory containing educational articles and timely information about the avionics industry, its products and its people. The back portion of the Pilot's Guide is a directory of AEA members. Our aim in publishing this annual guide is to help pilots make better avionics buying decisions and to locate the repair stations certified by international regulatory authorities as capable of installing and maintaining these sophisticated pieces of equipment. Enjoy the Pilot's Guide to Avionics!
MEMBERS OF THE MEDIA:
To access a high-resolution image of the Pilot's Guide to Avionics cover and/or current news releases, visit the AEA's Press Room online at www.aea.net/pressroom.